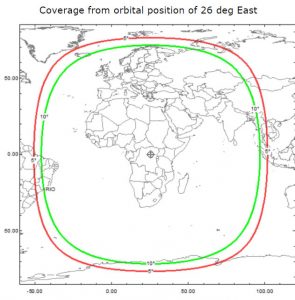 Is it wonderful to hear the voices from Crozet Islands on SSB? While waiting Thierry for his HF operating extension, it was another project to learn about OQ-100 satellite, get operational and hear the friendly voices  of your favorite DX as of today.
The expectation was not to have an armchair copy and chat  with Thierry and learn about  his today's weather. All this with 59 copy and no breaking stations around.
We are happy in Europe and in part of South America and Asia to have such satellite coverage to serve our DX appetit with the hope that one day soon other continents would follow.
Listen to OH2BH-FT8WW QSO of today  and hear that Thierry is expecting his HF license extension to become available momentarily.
You can also listen to the traffic on OQ-100. https://eshail.batc.org.uk/nb/
Rgds  Martti, OH2BH
SOME OQ-100 GENERAL INFORMATION
The geostationary satellite Es'hail-2 carrying amateur radio transponders launched from Kennedy Space Center at 20:46
GMT on Thursday, November 15, 2018 and is now in a geostationary orbit at 25.9° East. These are the first amateur
radio  transponders to be put into geostationary orbit and they are expected to link radio amateurs from Brazil to Thailand.
Es'hail-2 carries two "Phase 4" amateur radio transponders operating in the 2400 MHz and 10450 MHz bands. A 250 kHz bandwidth linear transponder intended for conventional analogue operations and an 8 MHz bandwidth transponder for experimental digital modulation schemes and DVB amateur television
TECHNICAL TRANSPONDER DATA:
X-Band 10 GHz Downlink:
– 89 cm dishes in rainy areas at EOC like Brazil or Thailand
– 60 cm around coverage peak
– 75 cm dishes at peak -2dB
– NB: linear vertical polarization
– WB: linear horizontal polarization
S-Band 2.4 GHz NB-Uplink
– narrow band modes like SSB, CW
– 5W nominal Uplink power (22.5 dBi antenna gain, 75cm dish)
– RHCP polarization
Credit to AMSAT-UK & AMSAT-DL